Yep, It's my dear country Nigeria's birthday on Sunday (I was also born on a Sunday - LAVLY!) and it's all about celebration! This post is all about happenings this weekend in celebration of Nigeria's 46th anniversary.



1)

First off, here in England, there is the Green & White party on Saturday at
Establishment
- 135, Finchley Road. The club always rocks thanks to DJ Bayo so it's one not to be missed if that is what you fancy.

2) Secondly, there is the Nigerian Independence Celebration in Atlanta, also on Saturday, free admission plus 3 events all in one celebration. Click the flyer below for more details and visit We3ent for info.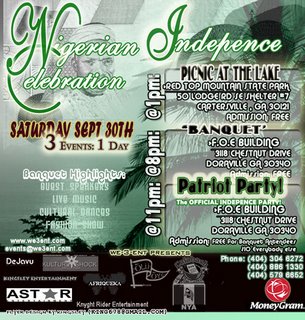 3) In Houston, Texas, there is the Green and White Affair at the French Quarters Grill (formerly Dreams). Dress code - T-Shirts, Tennis Shoes = NO! Button-ups, Geles/Agbadas = YES! See flyer below or click link above for details.

4) There is also a forum for young adults tomorrow - 29th September in Atlanta, also with free entry. Click flyer below for more details.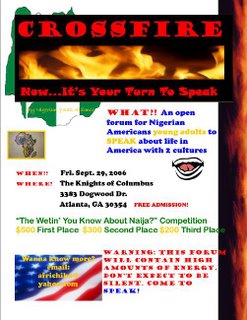 5) NYC are celebrating Nigeria's Independence in a big way. There is a miscellany of activities this weekend going on in New York. Visit the NYC Independence celebration site for more details.

6) For the non-party animals, there is a book reading on Saturday in Lagos, Nigeria. It will be held at the Jazzhole, Awolowo Road, Ikoyi. See
Laspapi's blog
for more details.

7) There is also something being held at Saipan, Victoria Island on Saturday - The Hennessy Show- hosted by Ikechukwu, Bella has just told us, see her blog for more details.


For the rest of y'all, ball till you fall and be safe. Have a great weekend and an enjoyable Independence Celebration, I have also included two downloadable freebies in the spirit of our independence and celebration.
If I've missed out any events, gimme a shout and I'll upload!

...... Enjoy! xxx